The 5 Best Things to Do In Dublin For September 2019
23 August 2019 ·
4
min read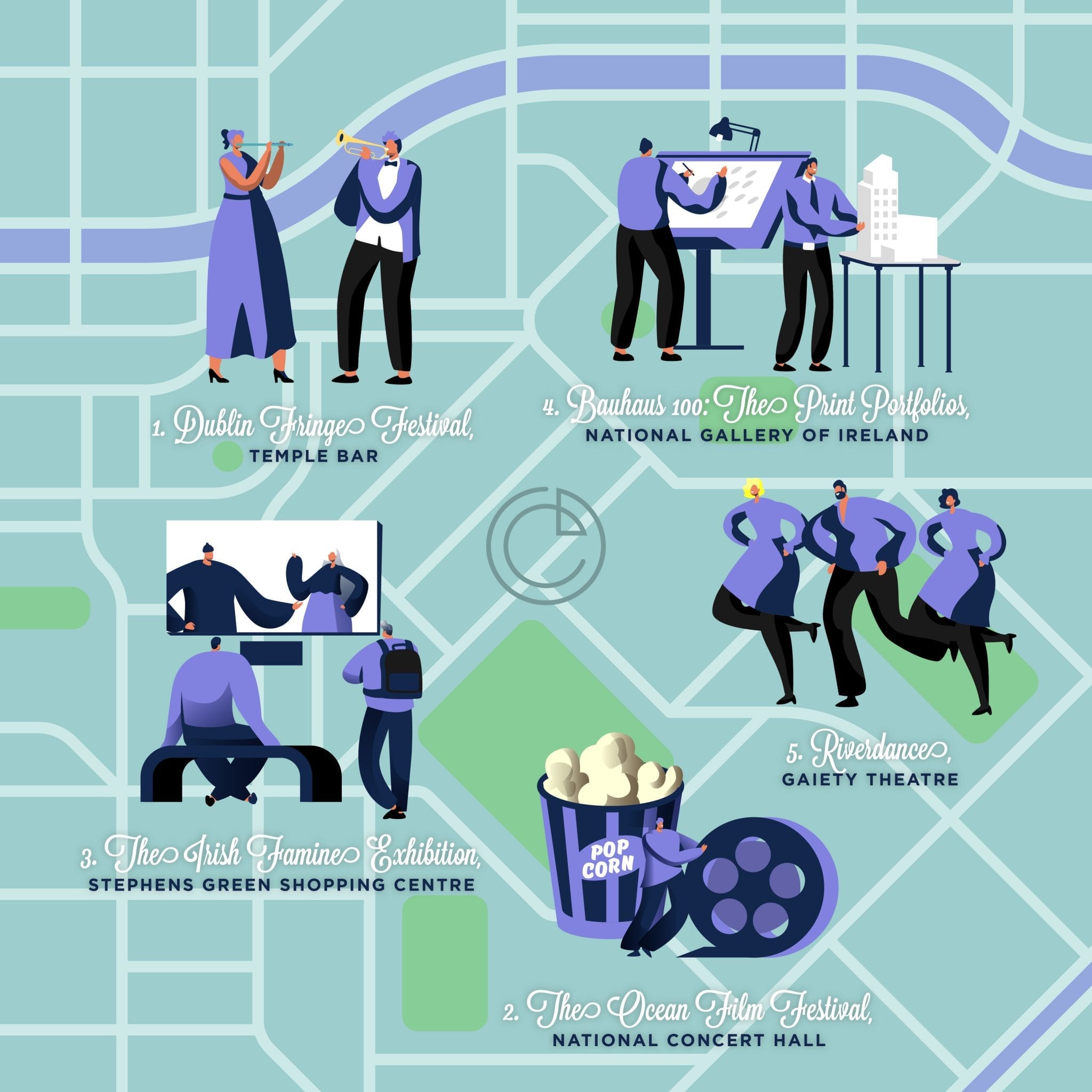 If you're visiting Ireland in September, we've got you covered. Equally, if you are considering a trip to Dublin, here are some events that might help make your mind up.
These are the 5 best things to do in Dublin this September:
Dublin Fringe Festival
The Ocean Film Festival
The Irish Famine Exhibition
Bauhaus 100: The Print Portfolios
Riverdance
1. Dublin Fringe Festival
Cabaret to comedy, dance to performance art, spoken word to visual art and everything in between.
The Dublin Fringe Festival was created in 1995 through a collaboration between Bedrock Productions, Dublin Theatre Festival and Arts office of Dublin City Council. It is an annual arts festival, which takes place in several venues across the city.
To appear in the festival, artists submit their show applications for review. The Festival organisers also run workshops during the festival to encourage would-be artists to develop, improve and apply to future events. The festival is open to both Irish and international participants.
This year's event is running from various locations from Friday 6th September to Sunday 22nd September 2019.
Keep an eye on the Dublin Fringe Festival website for details on who's playing where.
Event Name: Dublin Fringe Festival
Venue: Various
Date: 6th to the 22nd of September 2019
Further Information: – Dublin Fringe Festival
Booking information: Tickets for each show can be purchased at the Dublin Fringe Festival
2. The Ocean Film Festival
Environmental activists and some politicians have been increasingly been shining a light on the rising levels of pollution in our oceans. After years of neglect there is now so much plastic in the oceans that it is collecting as islands in the Pacific.
It's great to see projects like The Ocean Clean-Up taking action to address this disaster.
A host of oceanographers have created some awe-inspiring films to celebrate the sea and all its wonder.
The content includes:
Manry At Sea – a look back at how a suburbanite from Cleveland set off on a solo voyage across the Atlantic, in a 13½ foot wooden boat called Tinkerbelle.
A Place for Penguins – with the prospect of the African penguins becoming extinct by 2026, scientist Christina Hagen and visual artist Roelf Daling team up to tackle a unique project. Thinking outside the box, they prove there are unconventional solutions to conventional problems.
EmOcean – A love letter to the ocean from surfers, fishermen, marine scientists and people with a shared passion for the sea, sharing tales of adventure, adrenaline, inspiration, love, loss and their relationship with the ocean
You can view the complete film programme at the Ocean Film Festival taking place at The National Concert Hall. The schedule may be subject to slight changes before opening.
Event Name: Ocean Film Festival
Venue: National Concert Hall
Date: 10th September 2019, 7:30pm
Further Information: – Ocean Film Festival
Booking information: Tickets from €13.50 – €16.00
3. The Irish Famine Exhibition
The Irish Potato Famine was a defining period in Ireland's history that lasted between 1845 and 1849. The use of the word 'Famine' has been controversial. Despite there being enough food in the country to prevent the catastrophe over a million people died from starvation and disease. Millions more were forced to flee.
Though Irish emigration had begun almost a century earlier, the Famine exacerbated the numbers leaving the country and swelled the Irish diaspora abroad. It's estimated that by 1890, 40% of people born in Ireland had fled the country.
Event Name: Irish Famine Exhibition
Venue: 2nd Floor, Stephens Green Shopping Centre
Date: Open 7 days. 12pm – 6pm
Further Information: – Irish Potato Famine
Booking information: Admission – Adult €10 | Senior €9 | Student €7
Family ticket €25 (2 adults 2 children under 16) | Groups (10 persons+) €8 per person.
Under 12's accompanied by an Adult – Free | Exhibition not suitable for children under 6.
4. Bauhaus 100: The Print Portfolios
The Staatliches Bauhaus, better known as the Bauhaus, was a German art school that lasted 1919 to 1933 but had a profound effect on the world of art and design.
The Bauhaus (which means 'building house') was founded by the architect Walter Gropius in Weimar in 1919.
The idea behind the Bauhaus movement was Gesamtkunstwerk or Total Art, where all strands of the arts would eventually be brought together in creations. It is largely credited with being influential in the development of modern art and design as we know it.
The school was eventually closed in 1933 as the leaders came under increasing pressure from the Nazi regime to do so. The Nazis considered the progressive Bauhaus movement to be a centre of communist intellectualism.
Although the school was closed, the staff continued to spread its idealistic precepts as they left Germany and emigrated all over the world.
To mark the 100th anniversary of the school's opening, the Staatsgalerie in Stuttgart, Germany has kindly lent the National Gallery of Ireland four complete Bauhaus portfolios of prints to display.
Event Name: Bauhaus 100: The Print Portfolios
Venue: National Gallery of Ireland
Date: 20th July – 1st December 2019
Further Information: – Bauhaus 100
Booking information: Admission is free
5. Riverdance
The history of Riverdance is woven deeply into the Eurovision Song Contest.
Bill Whelan (Irish composer and musician) and Dónal Lunny (a member of the Irish band Planxty) composed a piece of traditional music called Timedance. This was performed at the interval of the 1981 Eurovision Song Contest, which was hosted at the RDS in Dublin and later released as a Planxty single.
Thirteen years later, Whelan was invited to do the intermission piece for another Eurovision Song Contest in Dublin and composed Riverdance.
It was first performed during the seven-minute interval of the 1994 Eurovision Song Contest at the Point Theatre in Dublin in 1994. The performance was watched by an estimated audience of 300 million worldwide and earned a standing ovation from the packed theatre of 4,000 people.
Husband and wife production team Moya Doherty and John McColgan decided to invest over $1 million into producing a full-length show. The show became a worldwide success and launched the careers of dancers Michael Flatley and Jean Butler.
The show is back in Dublin 25 years after its first appearance.
Event Name: Riverdance
Venue: Gaiety Theatre
Date: Tuesday 11th June – Sunday 15th September 2019
Further Information: – Riverdance Website
Booking information: Buy Tickets
If you would like to book tickets for the show and enjoy a pre-theatre dinner we have a special offer at the Green Hotel. Available Tuesday to Sunday until 15th of September.
If you're looking to get out and about during the day with your family, here is an ultimate list of great family activities to do in Dublin.