What's on in Dublin this Spring 2019
04 March 2019 ·
4
min read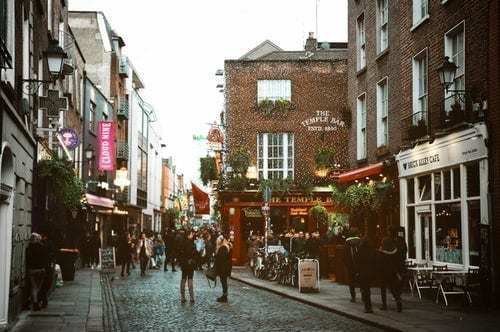 Dublin is an exceptional city, with so many things to see and do it has no shortages to keep you busy! The capital has many events happening all year round and all in walking distance from each other. Spring is no exception, whether you're into concerts or crafts there is something for you. Alltech craft brew and food fair to keep you feeling full, international concerts taking place including Kodaline to keep you entertained. With so many events and activities around the city, we are keeping you in the loop with a selection below.
Music town: April 5th – April 21st
Dublin City Council and Aiken Promotions have joined forces to create an electrical 2 week music festival Music Town. The festival was created to explore and celebrate Dublin's music culture. Music town launches on the 12th of April to the 21st, which takes place all over Dublin city in a variety of venues. Check out musictown.ie for ticket information and details about the event.
St. Patrick's Day Festival: March 14th – March 18th
The festival to celebrate the Irish. St. Patrick's festival is commencing on the 14th to the 18th of March this year. There is a lot of festivities around St. Patrick's Day with events on Irish literature, food, music and much more. St. Patrick's Day parade theme this year is storing telling which connects greatly with the old Irish folk tales in Irish history. Don't miss out on an experience and atmosphere like no other in the world.
Alltech Craft Brews & Food Fair: March 14th – March 16th
With over 400 craft brews to taste followed by food to delight the Alltech craft brews & food fair is coming to Dublin city on the 14th to the 16th of March. The event brings you all you could ever want with a large choice of Craft beers, food and entertainment. With 9 live performances and 3 main screens showing live sport, they will keep you engaged while you fill up on food from over 50 exhibitors of food and treats. Check out alltechbrews.ie to see all event information and list of craft beer venders.
Dublin Comic Con: March 9th & March 10th
This spring Dublin is welcoming once again the renowned Dublin Comic Con on the 9th and 10th of March. Get the chance to meet actors from your favourite TV shows, Movies, Comic Artists and writers. Go to check out demonstrations of virtual reality, SFX makeup artists who work to create your favourite characters. Lego brick club zone for the kids and kids at heart! Power Ranger Jason David Frank will be a special guest at DCC along with Buffy the vampire slayer star James Marsters. Check out dublincomiccon.com for more special guests to be announced and ticket information.
Rhythm of the Dance:  April 6th
A new era in the Irish dancing entertainment, Rhythm of the Dance brings an electrifying performance combining traditional dance with the latest on-stage technology for a unique show at the Olympia Theatre on the 6th of April. The show is 2 hours of mesmerising foot work which was voted the best dance show in Poland. The show has travelled spreading the Irish dance culture to the world including USA and across Europe. Check out olympia.ie for ticket sales and show information.
Glen Hansard: April 9th & April 10th
The Irish songwriter and founding member of The Frames is about to hit Dublin on the 9th and 10th of April in the intimate venue vicar street. The famous songwriter wrote hits such as "falling slowly", He also wrote the soundtrack for the movie 'Once' that came out in 2007. Hansard has recently released his third solo album titled 'between two shores'. Ticket information can be found at ticketmaster.ie.
Take That, Greatest hits live 2019: April 29th & April 30th
Take That returns to the 3arena with their best and greatest hits and it is not to be missed. 30 years of Take That and they are back again with special guest Rick Astley. They will make Dublin shine with their performances on the 29th and 30th of April. Stars of Take That, Gary Barlow, Howard Donald and Mark Owen take the stage on the 2-night performance in the 3arena. Check out ticketmaster.ie for event and ticket information. For a hotel near the 3Arena see the O'Callaghan Collection hotels in Dublin.
 The Gin Experience: April 12th & April 13th
An experience for all ginthusiasts! Watch the best Dublin and global creators of gin come together on the 12th and 13th of April at the Printworks venue in Dublin castle. Sip and sample gin with unique food pairings. Taste the botanical flavour of Irish gin and abroad. The gin experience is for all levels of Gin drinkers from the gin enthusiast to the complete novice! Cocktails are also available which are created by Dublin's highest esteemed bars and restaurants. With over 130 gins to choose from, Gin Experience is worth the visit in April. For more information visit ginexperiencedublin.com.
International Literature Festival Dublin: May 17th – May 26th
Dublin's international literature festival is back this May to celebrate the very best of Irish and international writers. The 9-day festival which takes place in the Guinness enterprise centre is fun for both children and adults. From the 17th to the 26th of May, New faces and house hold names are welcomed to the event along with their new pieces literature work. Check out ilfdublin.com for more information and ticket sales.
Walking On Cars concert: May 23rd
The Dingle Irish band are hitting the 3Arena yet again with their new album 'colours'. Walking On Cars have sold out gigs all across Europe and are back to perform in the 3Arena on the 23rd of May. There hit songs such as 'speeding cars' and 'Monster' and many others will be played. Check out 3arena.ie for ticket sales.
Kodaline concerts: May 31st – Jun 1st
With a worldwide tour Kodaline will play in Saint Anne's park for 2 shows on the 31st of May and the 1st of June 2019. Hits of 'high hopes', 'All I want' and 'love like this' they are returning with their latest album tour 'coming up for air' which topped the Irish charts in 2015. For ticket information visit ticketmaster.ie.
The Greatest Love of All Whitney Houston Tribute Show: May 11th
Vicar Street has announced a tribute to the late and brilliant Whitney Houston. With the breath-taking vocals of Belinda David's performing the best and well known hits from the great Whitney Houston. The show has toured around globally the past two years selling out shows. Don't miss out! For ticket information visit vicarstreet.ie.
Dublin is a small city jammed packed full of events and activities. Our 3 Dublin hotels are located just off Merion square and Stephen's Green Park. Perfect to retreat after your night in the city!