10 Trendiest Bars to keep an eye out for…
01 July 2021 ·
5
min read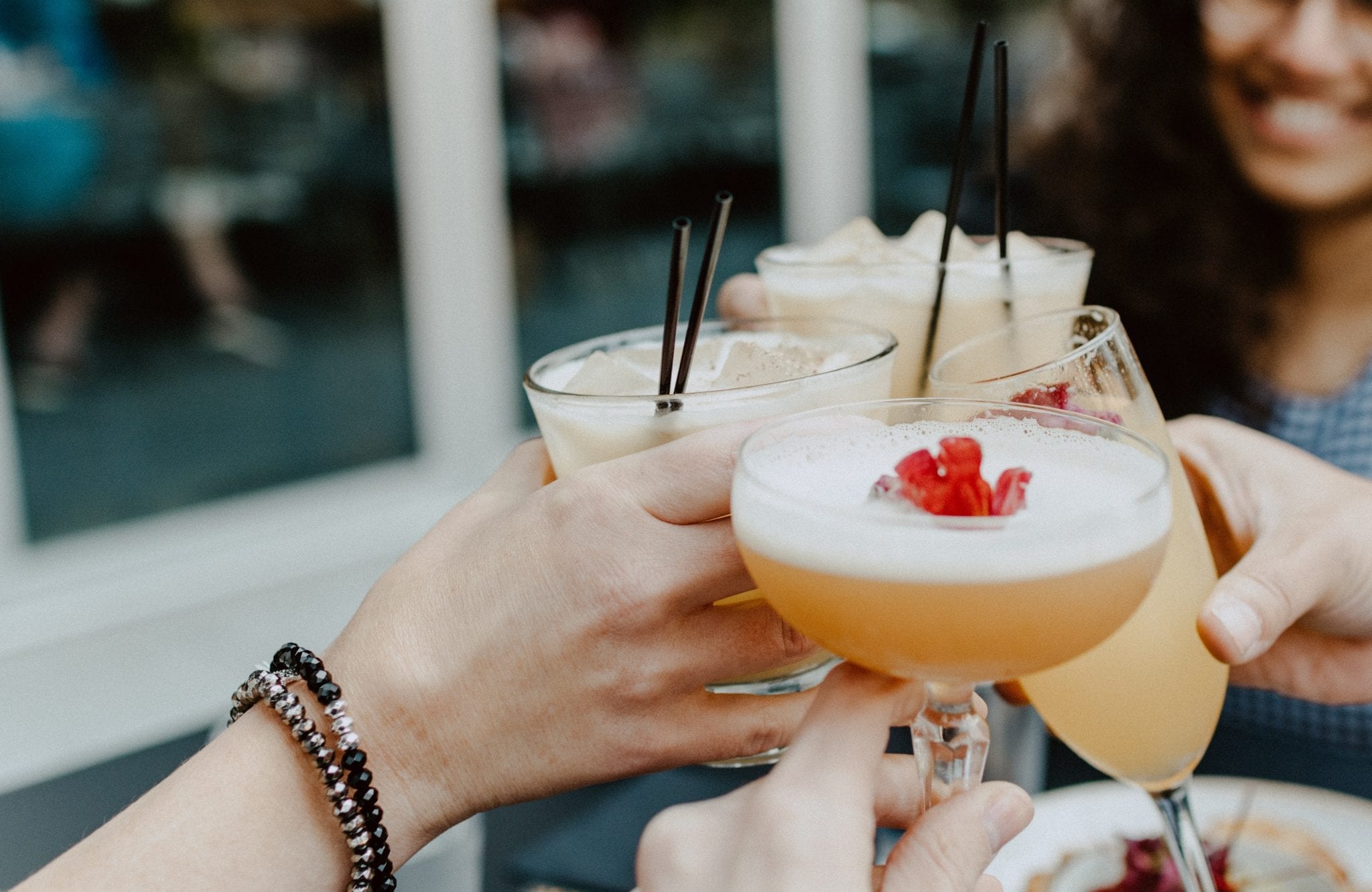 What are the best pubs in Dublin? What are the trendiest bars for a drink in Dublin's City Centre? Where should I have a pint before I leave Dublin?
These are the most popular and common questions that are Googled by visitors to Irelands Capital, Dublin.
With more than 750 pubs and bars in Dublin, it can be difficult to know where to go out for a nice drink especially if you're a newbie to the City or if you're just stopping off for a weekend. Look no further, we have listed (tested and approved of course) the trendiest bars to grab a drink in town.
In no particular order, these are the best and trendiest bars to try while in Dublin City Centre:
Pygmalion
Anti-Social
The Market Bar
Opium
Vintage Cocktail Club
Café En Seine
The Sin Bin
The Liquor Rooms
The Carriage Restaurant
Xico
Pygmalion
If you have explored the side-streets off Grafton Street, you may have walked past Pygmalion, or you may hear the locals calling it "Pyg". Located on South William Street, its exterior wall is full of bright lights that make it unmissable at night time and a great Instagrammable photo for the feed! Something else that is unmissable is the "Two for One Pygtails" special offer on cocktails! You can enjoy classics like a Mojito or Espresso Martini, or try their very own cocktail, Pyg Whiskey Sour. Feeling peckish while at Pyg? Not to worry, they also have a food menu with some delicious & tasty bites to nibble on!
Website: www.pyg.ie
Location: 59 South William Street, Dublin 2
Tipple to try: Frose
Anti-Social
Anti-Social is a great addition to the Dublin night scene. Located in Dublin 8, Anti-Social brings something a little different to your night out in Dublin. From DJ Nights to Events to Arcade Games & Machines, this spot is the place to be on Saturday nights. Choose from a selection of wines, cocktails, beers, whatever you fancy, they have! They also specialise in toasted sandwiches and are dog-friendly, do you need any more convincing?
Website: antisocial
Location: 101 Francis St, The Liberties, Dublin, D08 FHP9
Tipple to try: Popped Collar
View this post on Instagram
The Market Bar
The Market Bar is situated a short walk from Grafton Street, on Fade Street. This has become a very trendy part of Dublin and is nestled in an area known as 'The Creative Quarter'.
The Market Bar has a real antique yet modern look to it and the building itself is stunning – a must see! This Victorian building is over 250 years old and has served many purposes down the years including an abattoir. The Market Bar conveys Spanish cuisine vibes, specialising in Tapas and other Spanish dishes. Enjoy some Spanish fine dining while connecting with friends over a cocktail, a beer or a glass of wine.
Website:  www.marketbar.ie
Location:  14A Fade St, Dublin 2
Tipple to try: 5 Lamps Irish Pilsner
View this post on Instagram
Opium
Opium, located on Wexford Street, might be the ultimate escapist and coolest experience in Dublin with its 4 distinct spaces. Everything you could ever want or need is under one roof.
Botanical Garden – A tranquil area with a hanging garden effect that specialises in Thai and Vietnamese inspired lunch at weekends as well as serving cocktails until late.
Cocktail Lounge – Yes, it's cocktails but with a twist. Opium's expert mixologists are making drinks inspired by flavours and colours of the East along with Thai- Vietnamese bites.
Opium Live – Dance the night away on the large dance floor that has the colour and vibrancy of Tokyo with images classic manga novels adorning the walls while listening to some of Dublin's best DJs as well as International Talent!
The Restaurant – A modern pan-Asian restaurant operating 7 days a week providing authentic Asian cuisine.
Website: opium.ie
Location:  26 Wexford St, Portobello, Dublin 2
Tipple to try: Pina Colada at Tiki Thursdays
The Vintage Cocktail Club
The Vintage Cocktail Club is located in Temple Bar that provides an exclusive cocktail and dining experience. The Vintage Cocktail Club is a hidden cocktail bar, tucked away and concealed behind a secret doorway in "Dublin's Cultural Corner", you must ring the bell to gain entry. This 1920s themed speakeasy has an extensive cocktail menu for all taste buds and no surprise has been recognised as one of the best cocktail bars in Ireland. With that recognition alone, there should be no questions or hesitations surrounding a visit to the Vintage Cocktail Club!
Website: www.vintagecocktailclub.com
Location: Junction of 15 Crown Alley, Temple Bar, Dublin 2.
Tipple to try: Pineapple Fizz
View this post on Instagram
Café en seine
Café En Seine is the perfect French escape you need. Not only because its food and drinks are delicious, but also for its gorgeous décor that will make you feel like you're having a drink in the middle of Paris when you're really sitting on Dawson Street! After an extensive refurbishment, they have brought the best of the Parisian walkways into the Dublin building. On adore!
Website: www.cafeenseine.ie
Location: 40 Dawson St, Dublin 2
Tipple to try: Liberty 8
The Sin Bin
The Sin Bin is the bar located in the newly refurbished hotel, The Mont, our Sister Hotel, which is only stone's throw away from Merrion Square. The contemporary design gives the bar a modern but homely feel. Close to all the landmarks in Dublin City, The Sin Bin is the perfect place for a timeout after-work, for watching sports broadcasted on the big screens or for a drink before or with dinner. It truly is a cocktail bar hidden away from the hustle and bustle of Dublin City.
Website: The Sin Bin at The Mont
Location:  1-4 Merrion Street Lower, Dublin 2
Tipple to try: A delicious Irish Craft Beer on draught
The Liquor Rooms
The Liquor Rooms has been one of the first ROI bars to be nominated in the Tales of the Cocktail Spirited Awards and has also been nominated for Irish Craft Cocktail Awards, so you could say it's no secret why they've made our Top 10 Trendiest Bars in Dublin list. There are four rooms in this bar, all offering something different to ensure there is something for everyone to enjoy.
Its New Orleans's style décor and its original mixtures menu will make you travel for a little while. Let yourself be tempted by The Madame, a cocktail made of Tequila, Hibiscus & Cherry Tonic, our favourite!
Website: theliquorrooms.com
Location:  6-8 Wellington Quay, Temple Bar, Dublin 2
Tipple to try: The Madame
The Carriage Restaurant
If you ever find yourself rambling around Dublin City looking for somewhere for a bite to eat and some classic cocktails, look no further than the Carriage Restaurant and Bar.  Located on the ground floor of our hotel, the Carriage is a stylish and contemporary restaurant with 1920s inspired vibe throughout. Our chef, Michael Liu, has created a menu to cater for all taste buds and dietary requirements. We offer fresh, locally-sourced food as well as a profound cocktail and wine list to fulfil all your food and beverage desires. Check out our menu and if you like what you see, book a table with us and see what hype is about.  We look forward to welcoming you!
On the weekends you can enjoy some brunch in The Secret Garden upstairs, one of the coolest outdoor dining spots in Dublin, if we do say so ourselves!
Website: Eat & Drink at The Alex
Location: 41-47 Fenian Street, Dublin 2
To Taste: The Menu
View this post on Instagram
Xico
Last but not least, if you want to spice up your night out, you should definitely go to Xico, a Mexican themed venue based on Baggot Street. More cavern than tavern, Xico is an underground Mexican styled party space. The interior has a golden glow with the flaking paint and crumbled walls giving an overall rustic feel. The hidden nooks and crannies will give you an intimate sense in a fiesta setting. Their food is amazing and we are fond of their Margarita cocktails that look amazing, see for yourself.
Website: xico.ie
Location: 143 Baggot Street Lower, Dublin 2
Tipple to try: CBD infused Verde Mexicana
Above are some great recommendations for the trendiest bars in Dublin, you won't be disappointed if you visit any of them! If you drop in at The Alex, be sure to tag us in your Insta story @ TheAlexDublin.