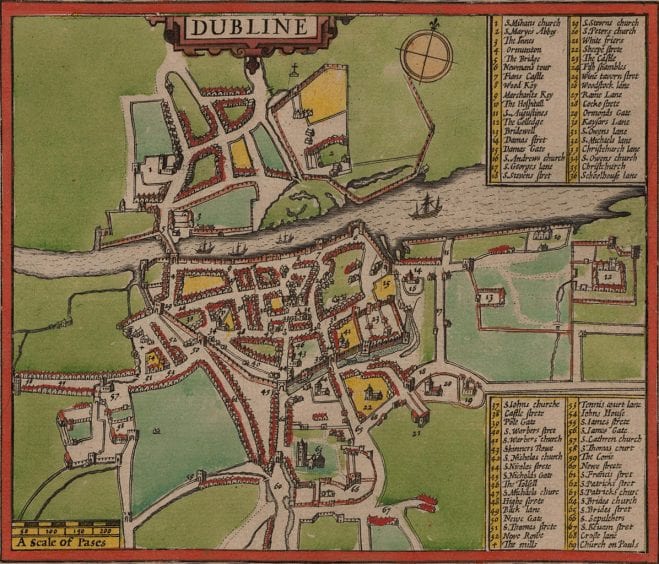 Dublin Castle can be considered as one of the most important buildings in the history of Ireland. Situated in the heart of Dublin city, most of the castle has been maintained although it has passed through several periods of war and always been possessed by Irish enemies.
Before being owned from 1204 by the English, the Vikings and Celts used to reside in Dublin Castle. It has gone through many historical phases since. What most people don't know is that beneath the castle you can find excavations once made by the Vikings to defend themselves. You can explore them while visiting the castle.
River Poddle, which is still running beneath the castle, would've been diverted to make a moat around the castle. It is also the reason that Dublin got the name it has today. River Poddle and Liffey used to flow together next to the castle forming a huge black pond and Dublin stands for "Dubh Linn" which means nothing more than "black pool".
The castle also features a medieval tower from 1204, which has been used as storage for important documents or even as the King's wardrobe. Nowadays it's one of the eldest historical heritages of Dublin city and is currently undergoing refurbishment.
The castle also features several state apartments of the upper courtyard which already invited guests such as J.F.Kennedy, Queen Elizabeth II, Charles Dickens and many more. Besides it is also home to many conferences and congresses during the year. Find out more about those through the Dublin Convention Bureau.
Another must see is the Royal Chapel, risen in 1242, which is a stunning sight of the castle.
The terrace café is run by the caterers and offers traditional Irish cuisine during the operating hours of the castle. It overlooks the castle's gardens and is an ideal place to relax after a busy sightseeing day. The castle's gardens are surrounded by walls and have been there at least since the 17th century. Statues, sculptures and monuments are garnishing the garden and so does the Garda Memorial Garden which has only been established in 2009 to commemorate all the fallen police officers.